Rikaichan and Rikaikun are add-on/extension for Firefox and Chrome web browsers that can instantly display the translation of a Japanese word. The translation is displayed when users hover their mouse pointer over a Japanese phrase on a web page.
If you are a foreigner who lives in Japan, or planning to travel to Japan, or someone who loves Japanese culture, then often you have to read information or filling an online application form written in Japanese. While Google Translate seems to be useful in this case, machine translation is still plagued by inaccuracies. For those who have no experience in learning the Japanese language, Google Translate is probably the only option, though. However, if you have some basic knowledge in the Japanese language, you will find it practical to have quick access to a Japanese dictionary. There are many dictionary-softwares out there, but most of them require you to copy-and-paste the Japanese word into a form located separately from the web page. It will be more practical if we can just point out the Japanese word and the translation instantly appears. This is exactly how Rikaichan and Rikaikun do their jobs.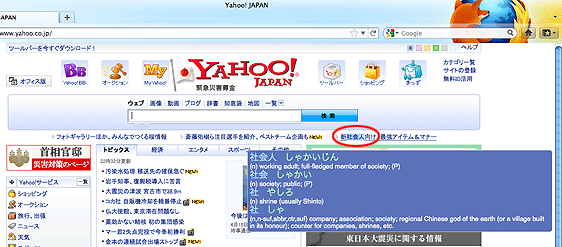 You can follow the instruction below to enhance your Firefox web browser with Rikaichan, or your Chrome web browser with Rikaikun.
Mozilla Firefox: Rikai-chan
Open your Firefox browser. If you don't have the browser, you can download it for free from the official website of Mozilla Firefox. Firefox came with various versions of languages and operating-system, so make sure you download the version that suits you well.
Next, using Firefox, download Rikaichan from the Firefox add-on gallery page.
Click "Add to Firefox". Firefox will ask for your permission to install Rikaichan, as a part of its security measure, so choose "Accept and Install", then "Install now".


After the installation is completed, Firefox will ask if you want to restart the browser. Your choice will not affect the next step.
Now Rikaichan has become a part of Firefox, and you need to add a dictionary too. Various dictionaries can be obtained from Rikaichan developer site.
Again Firefox will ask for your permission to install the dictionary. Click "Allow".


Firefox may again ask for your permission. Click "Install Now".
After the installation is done, restart the Firefox. Now, try to visit a Japanese website, such as Yahoo!Japan.
To activate Rikaichan, right-click, dan choose Rikaichan.


Try to point or select a Japanese word using your mouse.
To deactivate Rikaichan, right-click and choose Rikaichan again.
Google Chrome: Rikai-kun
Open the Google Chrome browser. If you don't have it, you can download this browser for free from the Google Chrome official website.
Using Chrome, visit Rikaikun page in the Google Chrome extension gallery. Click "Install" button on that page. Google Chrome will ask for your permission before installing this extension as a security measure. Choose "Install".

Rikaikun icon will appear on top-right corner of Google Chrome. Click this icon to activate rikaikun.


*) You may need to restart Google Chrome before you can use Rikaikun.
To deactivate Rikaikun, click again that Rikaikun icon.
An extensive amount of free and useful add-ons/extensions, such as Rikaichan and Rikaikun, is one of the notable advantages of Firefox and Chrome over the other web browsers.
Read this article in other language: BAHASA INDONESIA
Feature image: brgfx – http://freepik.com