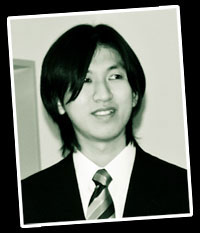 Name: Lukman Hakim
Nick: Alan (granted during AFS program)
Birth Year: 1982
Hobbies:
Programming, Graphical Design, Theoretical Chemistry, Classical Guitar, Wushu, Anime, Photo and Video Editing, Cooking, ...
Favorite Books:
The Saying of Zhuang Zi, Even the Angel Ask, Fortran 90/95 for Scientist and Engineer, Physical Chemistry, ...
Favorite Mangas:
Ranma 1/2, One Piece, Kotaro Makaritoru, City Hunter, Ryuuroden, Crayon Shinchan, Inu Yasha, Naruto, Gokusen ...
Favorite Artists:
Kitaro, Himekami, Richard Clayderman, Wadaiko Matsumura-gumi
Dislikes:
Heavy banger music, most of Indonesian TV programs, golf
MOMENTS AND ACHIEVEMENTS
Award for Logo Design
Faculty of Science, Okayama University
...
Dean Scientific Awards
Graduate School of Natural Science and Technology, Okayama University
...
Science Challenge Award
Kagaku TryAngle
...
Student Excellence Award
Graduate School of Natural Science and Technology, Okayama University
This award is basically a full tuition fee exemption (免除) by achievement for two consecutive semesters, exclusive for PhD students. The score is based on publication and proceeding.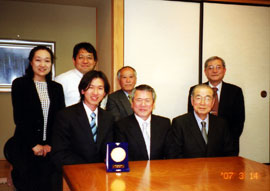 Master Graduation and INPEX Shaonkai
INPEX scholarship foundation arranged this shaonkai meeting to congratulate me on my graduation and also to honor my professor.

Japanese Language Proficiency 2nd Level
日本語能力試験2級
I got this qualification in 2006, and at the same year my wife got 3rd level. Later in 2007, my wife got her 2nd level certificate.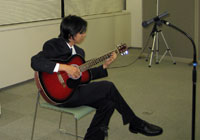 Classical guitar performance
INPEX Year-End Meeting 2006
Performance again, with two songs composed by Jubing Kristianto: Song for Renny and Rickshaw.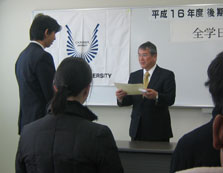 Excellence Award - Intro to Intermediate Japanese (2005)
Excellence Award - Beginner Japanese 2nd (2004)
I got the award in two consecutive course-periods.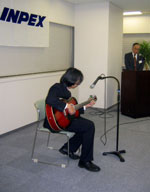 Classical guitar performance
INPEX Year-End Meeting 2004
I made my performance in this event with two songs: Greensleeves and Marriage D'amour.
I love classical guitar and wish I had a chance to take a formal class, or at least had a proper guitar, but I was not that lucky. A friend, Eka Juan, taught me how to play those two compositions with classical guitar when we were in Junior High School, and just after that I moved to another town where classical guitar is not popular at all. I continued to learn by myself with the help of a dusty old-book found from local library, published in 1970s. Having no classical-guitar community and no instructor led my classical guitar life to a decaying sinusoid.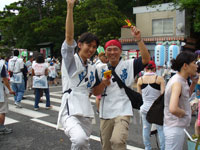 Landed on Japan
One day after I landed for the first time in Japan, I went out strolling around Tokyo by myself. I found myself in Junkudo bookstore in Ikebukuro, Ueno Zoo, and of course Akihabara. So I have no idea why I often find new students who locked themselves in a cramped room during their first week in Japan.

Lecturer of Chemistry, Brawijaya University
Following the formal selection procedure, I was appointed as lecturer in chemistry department of Brawijaya University. I was 21st at that time. The picture shows young lectures who were appointed at the same year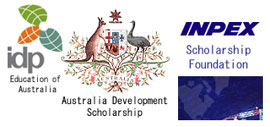 INPEX Scholarship and Australian Development Scholarship
Both foundations accepted me as their scholarship student, and I decided to take the scholarship from INPEX foundation (belong to a Japanese oil company of the same name). INPEX foundation announced their selection result earlier than Australian Development Scholarship.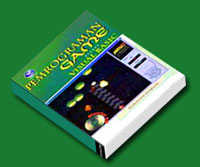 Writing Visual Basic Game Programming Book
First, I built a web site to share my work in game programming, and then I decided to write a book to share my knowledge in game programming. The book was written in Indonesian Language, and it was published by ANDI Publisher Yogyakarta. When I'm writing this paragraph, the book has been reprinted for the third times.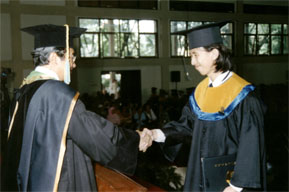 Bachelor Course Graduation
New record for the highest GPA
The Youngest Cum Laude
I finished my bachelor course in Brawijaya University within 3.5 years with 3.75 GPA. It was the new record in Mathematic and Science faculty at that time.
My parents couldn't come to the ceremony, so my GF and one of my best friend came to represent them.

Scholarship from Djarum Company
Scholarship from Brawijaya University
Djarum is a cigarette company, but I don't need to smoke to get their scholarship and in fact I'm againts smoking. I got Djarum scholarship at the last year of my bachelor course, and before this I received a smaller amount scholarship from my University.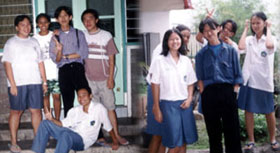 Part-time job in cram school
I got a call from my mom and she told me to quit from University because she cannot support me anymore. I was quite stubborn, so I look for a chance to get some pennies. Unlike in developed country, looking for an acceptable part-time job in Indonesia is hard. I ended up in a new established cram school, which later developed into Sigma Education Center. It's not really a part time job to say because in many occassion I have to teach from 2 to 10 PM. Most of my students are from St. Yusuf senior high school, and the rest are from St. Albertus senior high school.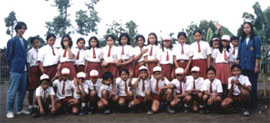 Teaching in Kedampul village
Kedampul is a small-traditional village, and always become target for college-KKN*) activities because it was constantly categorized as a poor-village by the government. I taught students of local elementary school in there for 1 month (last January 2002). I spent most of my time to motivate them to pursue higher education. Sadly, even if they want to, their parents did not have any interest to support them.
KKN or Kuliah Kerja Nyata (real-work college? hell with the name), is an activity which requires college students to stay and making contribution in a traditional village for a period of time. It is commonly a compulsory subject worth of credit point in most of universities in Indonesia. Since a lot of universities of the "rich" tend to bring money instead of idea to the village, it is common for villagers to think that KKN is equal to students donating their money to spend some nights in there.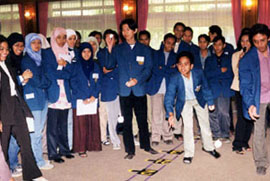 Entrepeneurship seminar
Two days seminar to tackle the most critical problem in Indonesian student character. An interesting quote from the main speaker, "They (Indonesian) don't want to become entrepeneur, but gladly want to be a part of military. They are afraid to lose their money, but they are not afraid to lose their life."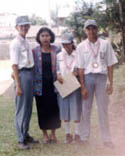 Highest NEM
It was the highest in my school, in region II, and I was told that the score for chemistry field is the highest in province level. From left-to-right: Me, Erminawati (Teacher), Dewi Rahmadani (Silver medal), and Harris Domili (Bronze medal).
NEM = Pure National Examination Score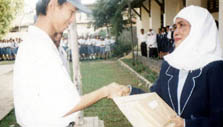 Book Review Competition (1st rank)
I reviewed a book about Tempe from Kecipir (Psophocarpus tetragonolobus). Tempe is widely consumed in Indonesia but it is usually made from soybean.
The competition was held during 52th year Indonesia Indepency celebration.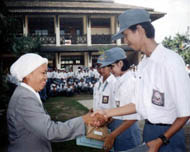 English Essay Competition (3rd rank)
The competition theme was "Experience is the best teacher". The cute girl on my right-side is the 2nd winner, Tasiah, and next to her is the 1st winner. Her name is Ira Yusnita and she has experience in EF home-stay program in America for about 2 years.
The competition was held during 52th year Indonesian Indepedency celebration.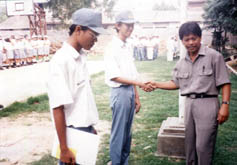 Stamp Design Competition (2nd rank)
Kristian Restu. He's a great designer and we worked together in journalistic club.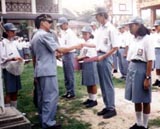 Scholarship from Ministry of Education
The amount is only enough to cover the tuition fee in my high school. Like most (not all) scholarship that I know in Indonesia, although the period of scholarship is clear, the payment date is uncertain and unknown. So we often visited nearest postal office to ask whether the scholarship has been paid or not.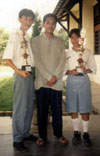 Creativity Competition (Siswa Teladan) - 1st rank: Capital city round
Creativity Competition (Siswa Teladan) - 3rd rank: Province round
"Siswa Teladan" means a student who serve as a good model for other students. The competition start locally in major cities, then provinces, and finally at national level. Personally, I believe there was some mistakes here because I'm a stupid and free man. I love to eat cassava-chip during a class, sat on top of table, skipped some boring classes, and many more deliquent activities. Hard to believe that such title was given to this kind of student. All of my trophies were kept in the school.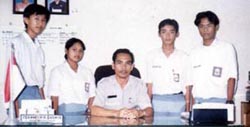 Chief Editor of Senior High School Press
Being a freshman, I was astonished to know that journalistic club in my high school has a team of 15 members yet the magazine was so suck. I was sent to a three-days journalistic workshop out there, and then appointed as the new editor with the original team disbanded. I decided to work with a team consist of four formal members. For the whole year, we got regular publication and high appreciation from students and teachers.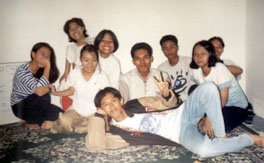 Chemistry study group - Senior High School
My interest in chemistry was started in this small study group. I don't know how to describe about my life in this group, a kind of mixture between sorrow and joy.